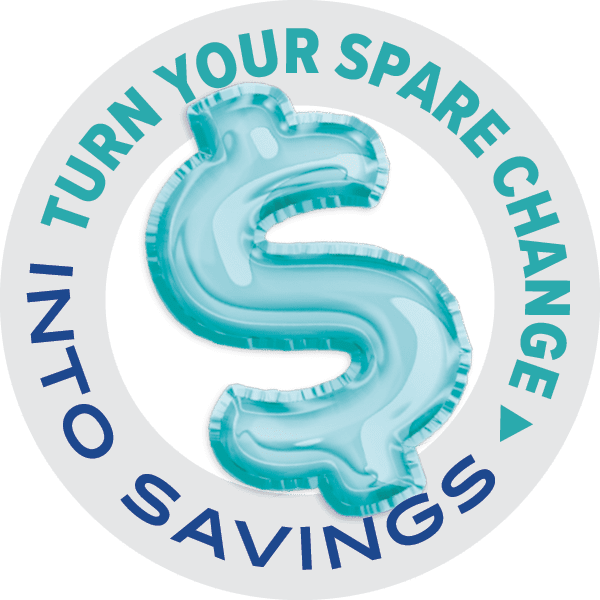 Simple Change Savings
Turn spare change into savings
Round up everyday purchases made using your Auburn Savings debit card and have the change automatically deposited into your savings or checking account. It's saving made simple!


Sign up for the Simple Change Savings program through online banking. Designate which account you'd like to enroll in the program and select the dollar amount you'd like to round purchases up to—from $1 to $9. 



Use your debit card to make everyday purchases like you normally would, whether it's that early morning coffee, a big online purchase, or monthly utility bill.


We'll round up the change from each purchase to the dollar amount you decide and automatically deposit it into your designated account.


See all your round-ups build into savings
on Auburn OnLine. Track daily or view on your monthly statement.
Get started saving today! Simply sign up through Auburn OnLine banking and find it under Messages.
Sign into your Auburn OnLine account
Select Messages from the side navigation
Under Support Center, select Or Choose a Form to Submit
Select the form for Simple Change Savings
Fill out and get ready to save!
Need to register for online banking?
How it works
With Simple Change Savings, the more you use your debit card the more you save. So, if you chose to round up to $1 on all debit card purchases, when you stop by the local bakery for your morning bagel and veggie cream cheese for $3.16, the .84 cents it takes to make it an even dollar goes right into your designated account. How simple is that?
Stop stressing about saving and have it happen automatically. Before you know it, all that rounding up adds up.
See the savings add up.
If you chose to round up to $1

Total Saved: $1.64
If you chose to round up to $9

Total Saved: $25.45
Have questions? We're here to help.
Contact one of our customer service representatives at (207) 782-6871 or toll free at (888) 282-7287 or simply sign up online to get started.
If your account is too low or has insufficient funds, the Simple Change Savings deposit will be cancelled for that transaction. Deposits will resume the following day, or on the next day sufficient funds are available.
ATM transaction are not included in the program.
Transactions can be viewed the following business day.
You may cancel your participation or change your round up amount at any time by contacting the bank.